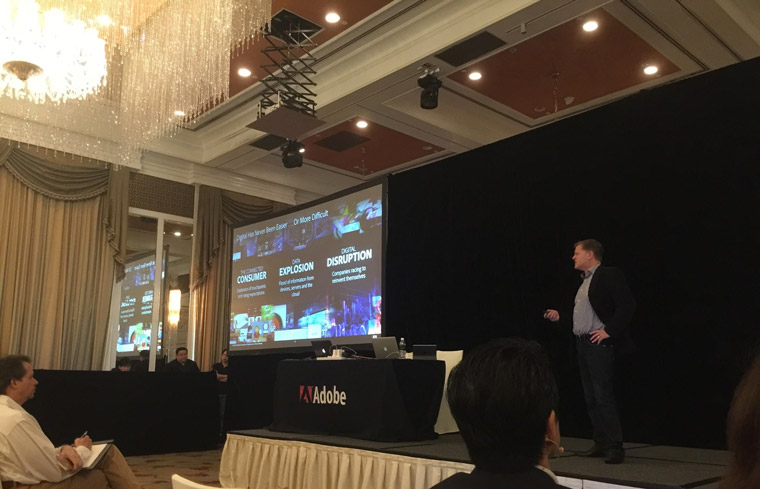 On January 28, I had the pleasure to attend Adobe Advantage Forum Singapore as my first event of 2016. I find the event rather worthwhile because it provides not only the latest technologies and functionalities that Adobe Products offer, but also it sparks creativity and conversations around latest trends of the user experiences as well as design.

Getting the design advantage
— An insightful talk given by Adobe's Senior Director, Product Marketing – Terry Fortescue. Basically this is an answer to the question "What's the real differentiating factor that sets your company apart?" Some people might say "Amazing marketing campaigns?" "Awesome products?" "Great customer satisfaction?"…. However, these are the basic requirements for a company to exist – you need awesome products, you need great customer satisfaction – but that's not a differentiating factor. So what CAN set your company apart?
Design.
That's what led to a conversation about Design Advantage. Some case studies include Uber (duh, the addictive user experience!) and FedEx – which made an extra of $200 Million profit by fixing its web user experience! That's the value of UX! They achieved this by hiring a creative director who understands the power of simple, clean user interface; someone that understands customer experience.
– that's, indeed, a design advantage.
Trends for the upcoming year
A lot of companies have been going through Digital Transformation. It doesn't happen in the Marketing or IT departments themselves, but within the core of their products, which can result in Organization reshape.
Moreover, strong customer focus never goes out of date. It's not enough for your customers to like you – you have to make them love you.
Now, how do we give the customers reasons to love us? By providing world class customer experience.
What makes a great experience?
"Compelling, personal, useful, everywhere" as the Managing Director, Adobe SEA, Stephen Hamill put it. From my interpretation, it means the interface has to be compelling in its presentation, its layout and its content; it has to give you a personalized and customized experience; it has to be useful so that it solves real user problems; and it has to be everywhere – no matter which tool and resolution that the user is viewing from, what's the internet speed (or if there's internet connection at all).
Terry also put it another way, which is your user experience has to be "Consistent, relevant, personalized".
Adobe product centric sharings
Since this is an Adobe event, it must also include some peek and insights into their latest products evolutions.
Basically now Adobe products can help us "Make", "Manage" and "Measure" via Adobe Creative Cloud, Adobe Doc Cloud, and Adobe Marketing Cloud.
Some new concepts and products:
Adobe Stock: (Through Fotolia acquisition) Stock images, fonts, icons.
CreativeSync™: better, safer and more efficient team collaboration and assets sharing internally and externally.
Project Comet: A project that many designers and developers are very excited about. It will utilize and integrate Photoshop, Illustrator and CreativeSync™ to provide a cross-screen solution user-prototype design.
The age of Hyperadoption
The most impartial and informative session would be the one from Clement Teo, Senior Analyst at Forrester Group, as a 3rd party.
He touched on customer-obsessed culture, the age of customer which led to nowadays the low risk of adoption that gives all of us huge opportunity to build customer-centric interfaces and products in a constantly adopting way – welcome to the age of Hyperadoption.
What does this mean? This means we should be transforming from Customer-aware to Customer-led, from Data-rich to Insights-driven, from Perfect -> Fast (This is my favorite! Sometimes we spend too much time to try to make things perfect – while I am more of a just-do-it person who enjoys trial and error and agile processes), from Siloed to Connected.
In the age of customer: from customer-aware to customer-led; data-rich to insights-driven; perfect to fast. #designadvantage #hyperadoption

— Libai Zhuo (@LibaiZhuo) January 28, 2016
Another advice is marrying what's trending to current campaign (again, create relevant experiences) A case study is Mastercard campaign with the Mary Kom movie when it was launched in India. The experiences that we offer should be context-driven and agile.
Adobe Product Demos
The demos happened after a short tea break, which mostly were focused on mobile apps.
Photoshop Fix
Photoshop Mix
Adobe Capture
Adobe Comp
Adobe Clip
Adobe CreativeSync and Adobe Stock
The ones that I found most relevant and very interesting personally as a UI/UX designer were Adobe Capture and Adobe Comp. These apps are too powerful to be FREE apps!
I love how Adobe Capture can obtain colour palettes from our everyday surroundings and objects; how it's able to create vector lines by snapping a photo of an object! (Saved my life as a designer without comprehensive drawing skills)(final touch-up still needed though)
Here is a success story of Adobe Captures's color capture functionality:
Old Navy uses #adobe colors app for retail research & saves 4 hours a week. Check out Capture CC. #designadvantage pic.twitter.com/iJpqUa3iDh

— Jennifer Leong (@jenleong) January 28, 2016
I love how fast and furiously you'll be able to come up with wireframes and creative concepts using Adobe Comp. The way you can place graphic and dummy text placeholders by random doodling – it's simply amazing.
Lastly, Adobe CreativeSync technology makes everyone; internal or external to the team able to share assets (even brushes, fonts) seamlessly and safely. I'm a little bit wary of this though – will it result in over reliance and dependancy on Adobe? I would use it sparingly with caution myself.
Overall Experience
The overall experience of Adobe Advantage forum is still quite positive! I've got enough takeaways that I feel I can go ahead and apply to my future digital marketing and web experience projects. The networking sessions aren't very long nor very engaging though. A funny part was regarding the survey that they used to collect our feedback – the URL was so hard to type that someone made a complaint on Twitter – A bit harsh but kinda makes sense huh?
#designadvantage it's ironic you talk about content velocity/relevance etc yet your bitly link for the survey is not customized. PiMiTxX?!?

— jasminewong (@jumbosstar) January 28, 2016