It took me about two weeks time to prepare for the PMP test after my 5-day course with NTUC NextU, although I understand that the average preparation time for PMP tests is 3 months. I'm not going to lie that I was once quite overwhelmed by the criteria to fulfil to sign up for PMP exams, the difficulty of PMP exams, and the low passing rate. Therefore, I had always been thinking that once I passed, I'm going to share my own experiences, tips and learning methods back to the community. So here it is – a complete guide to passing the PMP exam and getting the cert, including: Recommended PMP Course in Singapore; How to register for the PMP exam (what to prepare and what to expect); How to self-study and prepare for the actual PMP exam; And lastly, how is it like to take the actual exam in Singapore.
Quick Links:
PMP Eligibility
Why PMP?
Selecting a PMP Course
Attending the PMP Course
How to self study for PMP exam
Tips and experiences of the real PMP Exam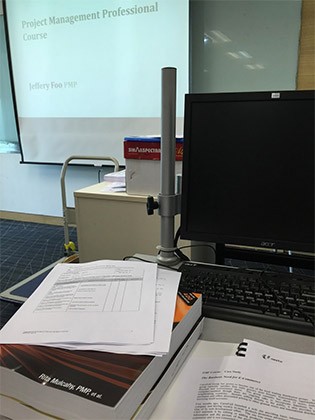 Who are eligible for taking the PMP course and exam
PMP course and exams are meant to be for experienced full-time project managers with 3-5 years managing projects, so it's not for fresh Project Managers hoping to acquire basic PM knowledge/methodologies.

I repeat, it's for EXPERIENCED FULL-TIME project managers.
Does that mean people who manage projects on a part-time basis cannot take the exam? Not necessarily – However, you will find it rather challenging to do so. Given myself as an example, I'm a Web Designer and Developer with experiences leading my web projects, so I had deemed myself to be rather competent for the test. However, the web projects that I'd run is nowhere near the size and complexity of the projects that's studied and mentioned in the PMBOK concepts – always remember, in PMP exams we're talking about projects with millions of budget, with more than 200 cross country project team members and last a few years.
Before taking the exam for PMP cert, participants also have to submit past project histories and details:
For degree holders and above – you have to list down at least 4500 hours of project hours (which spans across 3 years) and your roles/responsibilities in the projects – which ideally have to be leading the project work
For diploma holders – you have to list down at least 7500 hours (for 5 years) and your roles and responsibilities

There is a 5% chance that PMP will audit your application, so try to do bare minimum work for your Project Manage History submission – if you have a single project that spans the life of 3 years and last more than 4500 hours, then you don't have to list all 10 projects that you managed. Because they will all come back to you IF you were chosen to be audited, then you would have to run around with the 10 different projects and looking for your previous managers or other stakeholders for their signatures…

So why did I choose to take the PMP exam?

(This section is quite personal so you may choose to skip it if not interested)

When I browsed on LinkedIn I always saw various of certificates that people possess, which makes me wonder – should I also get myself certified too? What first came to my mind are the courses related to UI/UX such as provided by HFI and Nelson Group; Secondly, Project Management courses are attractive to me as well. For that in my opinion in order to achieve career success and make career progression, it's essential that we have the management abilities to oversee different factors, think strategically and manage resources reasonably. Moreover, I had not attended any management-related courses before, I figured this course and exam will close certain knowledge gaps of mine.

I manage many web projects in my daily life so I believe this course will provide me with deeper insights and a body of knowledge about how to run projects systematically, so that the projects can be completed smoothly, efficiently and effectively.

For Project Managers, I believe this is even more an essential certificate to get because this proves their deep knowledge in Project Management, which set them apart, and a lot of times guarantee a higher pay as well.

Selecting a PMP Course

Once you're certain that you're eligible for taking the PMP exam, the next step is to select a course, which will give you the 35 contact hours that you also require to pass the PMP exam. Will the courses provide you with ALL the information you need for the PMP exam? No. However they will be able to guide you through the basic concepts and ideas for you to do some further self study yourself.

The course that I selected is NTUC Next U (Disclaimer: I don't get any commission by recommending this course.) (However if you are reading this article and you're from NTUC Next U, feel free to contact me and give me a referral fee 😛 ) Because from the comparisons I've done, it's the most trustworthy and cost-effective that's available. It costs less than $2000 SGD to cover both the 5 days training and the exam fee. The fee is all inclusive even with materials as well – for the course that I've enrolled, I've got one FREE RITA PMP Prep Book, and one FREE PMBOK. These two books themselves worth over $200 SGD already. Not to mention the other materials they provided – lesson notes, mock exams etc. It's really very good for value.

Attending the PMP Course

There are two ways to attend the PMP course. One is during the weekend – in which way you'll need five weekends to complete the course. I myself was fortunate enough to choose a fast-track course, which compressed the 5 days into one single week, because my employer allowed me to do so and I chose to attend it right before Christmas, which was a relatively quiet time of the year.

I had no expectation or no idea how it was going to be like before I stepped into the classroom. And I was pleasantly surprised that the instructor (Jeffery) is humorous, knowledgable, highly engaging, full of confidence and wisdom. He made the dry course materials came to life and presented them in such a way that you will never feel bored. In his class you always found yourself burst into laughters – which as a result made all the knowledge areas more memorable. All in all I enjoyed his classes very much. Having said that, I'm not sure whether all the instructors at Next U is with the same level and standard.

One other thing is Next U provides light breakfasts with coffee and tea in the morning, then tea breaks in the afternoon. These are nice sessions for you to get to know your peers and classmates and spend some time to network, as well as relax a little from the high-intensity learnings.

Not only that, the course also stimulate and accelerate our learnings through real case studies and team projects. We were divided into two groups and somehow "competed" with each other. Each of the teams created a Project Charter, a Stakeholder Register and a WBS, Gantt chart etc. as part of our assignments and we had to go up and present our ideas while the other team tried to challenge the presenting team. I found these are very engaging and fun way to learn.

At the end of the 5 day class we had an immediate test in class which, in Jeffery's word, wasn't remotely comparable to the real level of the PMP exam. The passing score is 25/50 – you can only take the actual PMP exam after you pass this. I was worried I wouldn't be able to pass it so I studied the whole night prior to that, and the next day I studied through lunch time again.

I was so happy when I found out I got a 41/50 score, which means higher than 80%. That was the moment when I gained a confidence to enroll myself to the next available date of PMP exam in Singapore. Which was Jan 19, 2016.

How to self study for PMP exam

PMP preparation reference books

There are two books that all PMP learners has – PMBOK and RITA PMP Prep.

As Jeffery said, PMBOK is a very dry book to read and you don't have to spend a lot of time reading it. (Unless one day when you have difficulty falling asleep, then by all means, this book is going to do the trick) However, Jeffery also pointed out that PMBOK is the core of the exam, so at least read it once before you go for the exam. (The truth it, I haven't really touched it. )

RITA PMP Prep book on the other hand, was highly recommended by Jeffery. He said this book is much easier to read and understand, and it covers all the exam points too. One of my friends who passed PMP previously also told me that, "It's not difficult to pass PMP. Just read RITA PMP Prep book for three times will do!"

However, I myself have a different theory. For me RITA book is what Jeffery described as PMBOK – it's dry and difficult to read. It's a book which makes me fall asleep. I find it extremely difficult to complete reading a chapter per day. And even if I did complete, what did I learn? I couldn't remember. Because a lot of times it was so dry until I was barely absorbing anything out of it. I have to highlight that PMP is not an exam that you can pass by memorizing. It requires you to genuinely and thoroughly understand all the knowledge areas and apply them freely. Because the exam questions can test you in any form, in any industry, in any case scenario to see to what extent do you understand the theories. That's what makes it so difficult.

I see Rita's process chart as one of the highlights of the RITA book. Although it's something difficult to memorize (since there are much more processes than listed in the PMBOK), all the processes can be explained logically after you take a closer look. There are a few online games for Rita's process chart, where you can play and understand better by dragging and dropping the processes to each of the groups. (Only the "Planning" group happens in the sequence, so it doesn't really matter much about the actual sequence of the other groups.)

Rita's process chart covers quite a lot of exam questions' answers. I copied the whole process chart by writing down the processes to make myself understand better.

If you ask me which reference book do I recommend for PMP exam, my answer would be – neither of the above two books! For me the most important book is

! I have to give the book the credit for enabling me to pass the exam with no doubt.

When I was reading the book's reviews I saw some pretty encouraging reviews:

"The purpose of me reading is to pass the PMP exam, and this book did it!"
"The book is extremely easy to read and understand. If what I require is to lift a 50 pounds weight, why do I even bother to be trained to lift a 500 pounds weight?"

Exactly. Reading books such as PMBOK and Rita PMP Prep feels like a 500 pounds weight to me. Reading <Head First PMP> on the other hand, makes me feel inspired and enlightened about so many knowledge areas. I used to have to memorize the inputs, outputs, tools & techniques in the past. However, after reading this book, I feel I truly understand what each of them means, when to apply them, and how to apply them.

PMP Mock Exams

Here is a list of the mock exam materials that I used:

Exercises after each cheapter of RITA book
RITA PMP Fast Track
Oliver Lehmann's 175 PMP Sample Questions
Other Free Online Resources

A very important note – do NOT start mock exams too early. Mock exams are only useful AFTER you grasp all the ideas. It's a waste of time attempting to do mock exams without a solid understanding of all the knowledge.

On top of that, the difficulty level of each mock exams varies a lot. A lot of websites provide free or trial sample questions but I'm not sure how helpful they are. The most important thing is still to understand truly the concept behind the processes and when/how/why to use the tools and techniques etc.

With that said, it's absolutely necessary to do a REAL mock exam before your actual test. I did my 4-hour mock exam on Sunday, which was at the same time period as the actual exam I scheduled. Because 4 hour is a very long time and you have to build your stamina for it. During the 4-hour exam you can also find your areas for improvement. For example

I got hungry during my 4-hour exam that I had to run to kitchen for food. So during the real exam I had plenty of breakfast prior.
It's exhausting to answer 200 questions at one go and time was running out very fast. I've heard cases of people spending 2 hours on answering the 200 questions and using the remaining 2 hours for checking and reviewing. I was barely finishing the questions on time. Therefore I knew I had to speed up during the real test and keep myself 200% concentrated on the questions.
There are times when you're uncertain about a question so you mark it for review, yet the questions afterwards might just give out the answer to a previous question. Therefore it could be helpful if you write down a few keywords about a certain question you mark for review. (Use this sparingly though since if you spend too much time writing keyword it'll eat up your time for the test)
I ran out of my "stamina" when working on the last 20 questions – I just wanted to finish them fast, so I got impatient and didn't select very carefully. So it worths paying attention to when it's the real exam, you really have to give it full attention until the very last question.

Tips and experiences of the real PMP Exam

PMP Test Centres

There are two exam centres in Singapore, the smaller one is where I had my training – NTUC learning hub. The one I selected is at Prometric Test Center.

It was about an hour's bus ride to the test centre. I brought some main A4 knowledge papers and read them one last time on the bus, which includes all the processes' inputs, outputs, tools & techniques, along with the study notes that I made while I was reading the books. Example below:

PMP Exam Rules

The absolute necessary thing to bring with you is your passport which's clearly written in the email as well. IC or driving license simply won't do the job.

There are absolute no other thing at all that you can bring into the exam – no pen, no sketch paper, no calculator, not to mention mobile phones. These are all strictly forbidden. They will provide you with pencil, paper as well as on-screen calculator though.

Wear in layers because you never know how hot/cold the exam centre is going to be. From my experience it was freezing so I felt lucky that I brought a thick jacket with me – I saw another girl who only wore a short-sleeve dress and I felt cold for her.

Prepare food and drinks in advance. You will be allowed to come out from the exam room to consume them but you will have to go through the security checks again.

You will be given earphones to block the noise.

Actual PMP Exam Experiences and findings

(exam taken on Jan 19, 2016 and subject to change)
A lot of questions about changes. Therefore you have to be very familiar with Change Management Processes. Because, for example there were a lot of questions about what should you do NEXT or BEST THING to do when this or that change happens? Which tools/techniques to use? Which documents to update? These are where the difficulties at.
There's NO questions about calculating the critical path or float! Not even one. After doing loads of RITA Fast Track tests I thought it's definitely going to appear in the real exams. Well, not really.
Even though there are calculations about, for example, EVM (Earned Value Management), it's VERY simple. You don't even have to use calculator.
There were a couple of questions regarding "Issue Log" or "PERT Distribution". I thought these are minor knowledge areas, which at most will appear for once. Turns out more than one questions were about each of them
A temporary cert with exam result would be printed out and given to you on the spot, and the staff would say "Congratulations!" to you.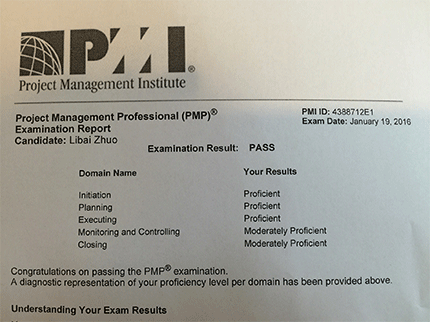 Here are some of my key milestones:
Nov 19 – Registering for the NTUC NextU PMP Course
Dec 19 – Completing the course
Jan 19 – Passing the exam
I have to say that preparing for PMP is a long, difficult and challenging journey. However, please do have faith in yourself, that with the right method and materials and the right amount of time that you dedicated for studying, for sure you can pass it no problem!