View the live page here > http://salesforce.com/why
My responsibilities
Project Management – be the project owner for this project and ensure its on-time-on-budget delivery.
Brainstorming for creative ideas and inspirations with the team.
HTML/CSS/jQuery coding for the microsite development.
Marketing objectives
Brand building with thought-provoking questions.
Lead generation.
Creative direction and web production
We aim to build an interactive standalone website with a brand new look and feel (within the brand guidelines).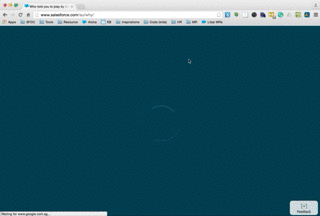 (The above is a small animation to try to show the interactivity of our brand campaign microsite. Please pardon the low resolution to keep this file small and smooth.)
We looked at past projects lesson learnt (eg. we used to do pure brand building without lead gen forms) and improve accordingly (added in 2 more CTAs for lead generation).
Production work assignment:

I worked on the whole site's layout with HTML/CSS/jQuery, including responsive website building (for mobile, tablet etc.);
My colleague Heng worked on the interpage scrolling and flipping effect.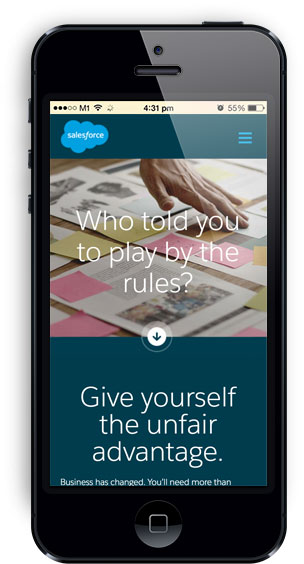 (Mobile responsive development – RWD HTML/CSS coding.)
Challenges
Short Timeline – 9 days production time for the whole microsite.
The agency which was supposed to deliver the copy direction and background graphics based on our brief, didn't deliver based on our brief.
Approaches
Project fast tracking.

Did a WBS, based on which I input all the tasks and owners in a gantt chart, and then look at ways to fast track the project. e.g. started production work of the website based on wireframe first, while copy and graphics were still being finalised. (Several tasks in parallel)

Mitigate risk.

When the agency wasn't able to provide graphics for background, I mitigated the risk by leverage in-house designer to come up with the graphics and minimized the impact.
Results
On-time, on-budget delivery of the microsite – Production of the microsite within 9 days.
Brand new interactive web experience for visitors.
Lift Salesforce brand awareness in ANZ market.
Lead gen from various CTAs on the website.
Testimonials
An overwhelming thank you for delivering an awesome microsite for the brand awareness campaign! You have taken it to the next level creating a new and better experience for our 'intrapeneurs'. I truly appreciate this was not easy in the short timeframe you and the team had – but you absolutely delivered and kept us all on track!
—- Renata Bertram, ANZ Field Marketing Director
Not only have you driven this project against a seriously tight deadline, in the process you've been able to turn out a result that is a major improvement on what we rolled out in the 2015 brand campaign. Kudos to you in making such an impact on the ANZ business. The sky is the limit.
—- Chad Pearce, APAC Digital Marketing Director
I feel grateful for the kind words and will keep delivering beyond expectations. #dreamjob