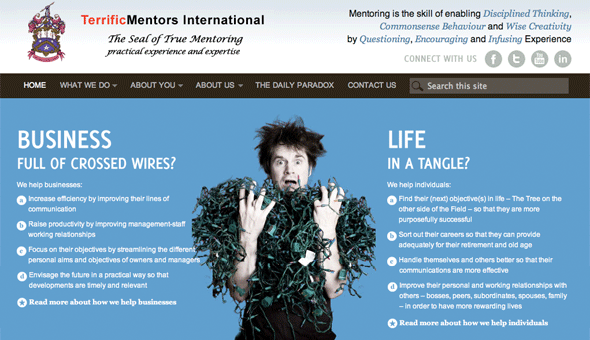 I was cooperating with Tania Chew from Word of Art on this project and she's the one who manages the content and liaised with the client. Thanks her for her good work so I can concentrate on working at the design and development of the theme.
Actually the final design is quite different than my original ideas and the client wanted it this way (tangled man etc), and added in so many stuffs at the end, such as the top right area which looks kinda crowded. Well, I think every designer will learn (in their own way) that client is always right 🙂
The project not only included WordPress theme design and development, but also PHPList newsletter installation and configuration. PHPList is a tool that I'd never worked with before, and it's a free solution for newsletters. It looked quite outdated to me though, and not customizable in many ways. I would recommend Mailchimp still for this kinda services. For free solutions I'd go for any kind of WordPress plugins, I believe there must be some plugins which can get the job done neatly.
The website also includes Twitter and Youtube integration.
This project had been going on for a long while and I'm glad finally me and Tania have pulled this through together. Great teamwork it is. Tania has been my lifesaver in a lot of ways and I look forward to working with her again on some cool project in the near future.