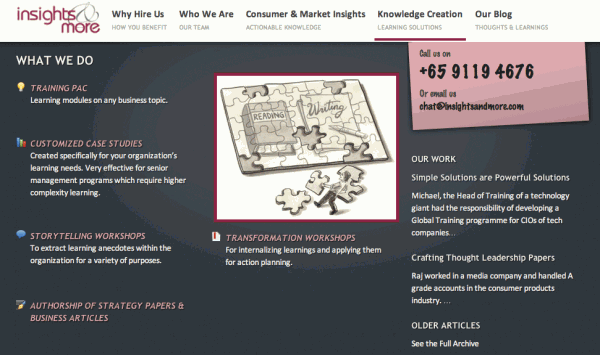 View the Consumer & Market Insights page in action
View the Knowledge Creation page in action
This is a website revamp project. The main section I had worked in is the "Who We Are" section – we were to divide it into "Consumer & Market Insights" and "Knowledge Creation" pages, although there are other changes applied throughout the site. I needed to tweak their layout to be more user friendly and well structured, enable file downloading, and recode the right sidebar section to display more information as well.
Please find below a simple "Before and after" comparison.
This is the first time I've ever worked on a Textpattern website (or even heard of it…). Actually I wasn't aware that the website is using Textpattern even after I signed the design agreement with client because I'd been told it's using WordPress. I was a bit surprised at first but I'm never a person who's afraid of learning new things, and it turns out to be not so difficult for me to learn given the variety of CMS/forum/other platforms that I had been working with.
It's a very flexible templating system and you're free to customize any part of the website as a designer. The downside would be it's using Textile markup and it could be less efficient. And the whole "uploading an image through images tab and go back to your article and include that image" process is time-consuming. It'll be so much easier if you could upload your image to your article right away. Oh and files as well.
So if I'm to develop a new website for a client I won't suggest Textpattern but anyway it's a good experience for me to learn something new.